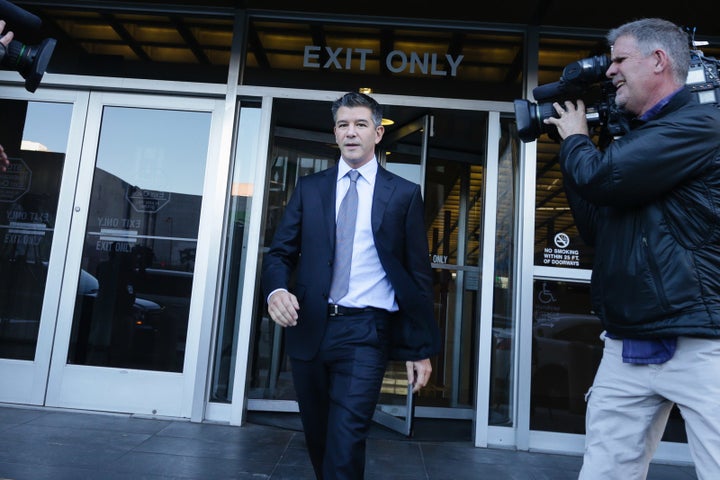 Elijah Nouvelage / Getty Images
Waymo, the self-driving car unit of Google's parent company Alphabet, unexpectedly settled its trade secrets lawsuit on Friday, ending an nearly year-long legal battle between two of Silicon Valley's biggest companies.
The surprise settlement, in which Waymo obtained 0.34% of Uber's equity, valued at $245 million at a $72 billion valuation, comes four days after the start of the trial in the case. This week Waymo called former Uber CEO Travis Kalanick and board member Bill Gurley to the stand in a San Francisco federal court for questioning.
"We are committed to working with Uber to make sure that each company develops its own technology," a Waymo spokesperson said in a statement. "This includes an agreement to ensure that any Waymo confidential information is not being incorporated in Uber Advanced Technologies Group hardware and software. We have always believed competition should be fueled by innovation in the labs and on the roads and we look forward to bringing fully self-driving cars to the world."
The settlement, which is notably less than the billion-dollar figures that were being discussed when the lawsuit was first filed more than 11 months ago, ends what could have been years of costly litigation between both sides. Both companies had discussed the possibility of appealing the settlement had it not gone their way, while there was also discussion of Waymo bringing another lawsuit for the theft of trade secrets regarding self-driving car software. This suit only pertained to self-driving car hardware, particularly the design of Lidar technology, which allows an autonomous vehicle to sense its surroundings in real time.
In his note to employee's new Uber CEO Dara Khosrowshahi, struck an apologetic tone and addressed the "mistakes of the past" made under Kalanick's leadership. Kalanick resigned in June after months of turmoil within the company stemming from allegations of wide spread sexual harassment, discrimination, and questionable behavior at the executive level.
"The acquisition of Otto made good business sense," Khosrowshahi wrote. "But the prospect that a couple of Waymo employees may have inappropriately solicited others to join Otto, and that they may have potentially left with Google files in their possession, in retrospect, raised some hard questions."
A spokesperson for Kalanick did not immediately return a request for comment.
Khosrowshahi, in his letter, was adamant that no trade secrets made it from Waymo into Uber's self-driving car project and noted that "we are taking steps with Waymo to ensure our Lidar and software represents just our good work." He also called the people at Alphabet Uber's "friends" and "competitors" who "share a deep belief in the power of technology to change people's lives for the better."
Comments
comments