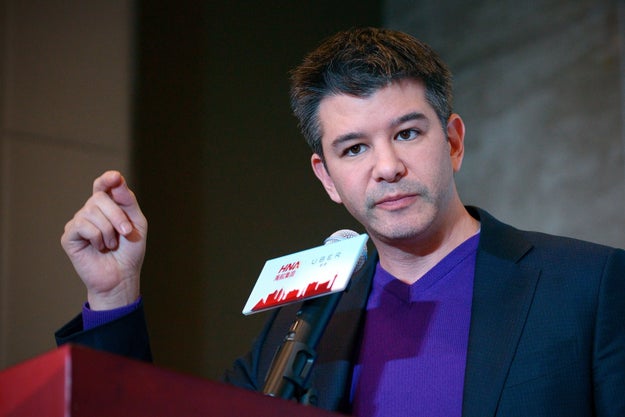 Wang Zhao / AFP / Getty Images
On Aug. 30, media mogul and Uber board member Arianna Huffington posted a happy photo to her Twitter account. In the picture, Uber employees, who had spent the last eight months watching the company's dirty laundry aired in public, smiled for the camera hoping that the moment marked a new beginning. Front and center in the photo, Uber's cofounder and former CEO Travis Kalanick stood side-by-side with Dara Khosrowshahi, the man who had replaced him at the helm of the embattled $69 billion ride-hailing company.
Now, a little more than a month later, the united front on display in that photo has been severely tested. After Khosrowshahi proposed that the board limit early shareholders' voting power and Kalanick surprisingly appointed two new board members last week, the company's directors voted to fundamentally change Uber's corporate structure. On Tuesday, the directors, led by Khosrowshahi, moved to decrease the power of Kalanick and other early executives and investors by removing certain voting privileges from their Uber shares.
The move to remove some shares' "super-voting" privilege, which gave owners 10-to-1 voting power, is Khosrowshahi's most consequential move since he became Uber's CEO, wresting control away from Kalanick and making a proposed sale of shares that will be worth billions of dollars to Japanese telecom giant SoftBank more palatable to selling shareholders. For Kalanick, who was enraged after these provisions were introduced last week, an agreement to dialback his percentage of votes was seen as a compromise, as he was able to keep control of three board seats that had been at the center of a lawsuit from an early investor.
"Today, after welcoming its new directors Ursula Burns and John Thain, the Board voted unanimously to move forward with the proposed investment by SoftBank and with governance changes that would strengthen its independence and ensure equality among all shareholders," a spokesperson for Uber's board said in a statement. "We look forward to finalizing the investment in the coming weeks."
While Khorowshahi has worked to portray Uber as a company cleaning up its image and building internal harmony, the board's debate over corporate governance proposals made for a contentious weekend with Kalanick. Uber's former CEO, who voted for Khosrowshahi to succeed him, was furious last week when the company's new leader introduced a set of initiatives with shareholder Goldman Sachs on Thursday that seemed largely intended to hamstring him. They proposed the removal of super-voting privileges, a provision that made it harder for for past executives to be named CEO and a 2019 deadline on the company to go public.
On Friday, Kalanick responded by filling two vacant board seats with Burns, the former Xerox CEO and Thain, the former CEO of Merrill Lynch CEO. An Uber spokesperson called the power move "a complete surprise" on Friday, given the fact its former chief executive had controlled those seats but left them empty for more than a year, and that they are currently at the center of a lawsuit from investor Benchmark Capital against Kalanick over alleged fraud. (That suit, which was brought in a Delaware court, was recently sent to arbitration.)
"I am appointing these seats now in light of a recent Board proposal to dramatically restructure the Board and significantly alter the company's voting rights," Kalanick said in a statement last week.
The posturing continued throughout the weekend as Uber and its new CEO course corrected for the surprise move and Kalanick prepared to dig his heels into retain a grip on the company he had led for more than six years. According to a source close to Kalanick, the two spent the past 36 hours discussing terms and possible compromises, with Khosrowshahi juggling the corporate governance questions with a trip to London to speak with the city's transport commissioner, who had revoked the company's taxi license last month.
After meeting with British regulators, Uber's new CEO dialed into the meeting, which took place after lunchtime in San Francisco. Burns and Thain also joined, having seen their surprise appointments confirmed on Monday, and all 11 members unanimously voted to move Uber to a "one share, one vote" system.
While Kalanick relented on the proposal about super-voting shares, he convinced Khorowshahi and the rest of the board to avoid a provisions that would have created roadblocks to him being renamed CEO. He also avoided a provision that could have potentially stripped him of the the three board seats he controlled, and negotiated a deal with Benchmark who said it would drop its suit against Kalanick once the SoftBank deal was approved and all new corporate laws were implemented.
"Today the Board came together collaboratively and took a major step forward in Uber's journey to becoming a world class public company," Kalanick said in a statement. "We approved moving forward with the SoftBank transaction and reached unanimous agreement on a new governance framework that will serve Uber well."
Khosrowshahi saw his potential power limited, with the board striking a provision that would have given him the right to name successors to three board seats once the current holders — media mogul Arianna Huffington, Nestlé's Wan Ling Martello and Uber SVP Ryan Graves — decide to leave. The board implemented also another rule requiring a two-thirds vote among directors to approve a new CEO before an initial public offering, which the directors mandated should happen by 2019.
The board's vote on Tuesday allows the company to move forward with a deal for SoftBank to potentially invest $10 billion into Uber in a deal that would see the Japanese conglomerate partially buy out some early shareholders. To prepare for that, the company would create two new board seats for SoftBank as well as hire three additional independent directors and a chairperson, bringing membership on the board to 17 people.
Not everyone was happy with today's results. Early Uber investor Shervin Pishevar, who previously intervened on Kalanick's behalf in Benchmark's suit against the Uber founder, threatened on Monday to sue Uber board members Graves and Garrett Camp if they voted to implement the one vote, one share rule. Though that the vote in favor of such a system was unanimous and included Kalanick himself, Pishevar said he still intends to move forward with a class-action lawsuit, claiming that today's decision robbed more than 200 early shareholder of voting rights.
"Today's action is a naked violation and repudiation of those rights," he said in a statement.
That Khosrowshahi wasn't present in-person for Tuesday's board vote, speaks to the hectic week he's had as Uber's new leader. He called into the meeting, having spent the day in London, where he met with the city's transport commissioner, who revoked the company's taxi license last month.
Uber representatives were also in a San Francisco federal court on Tuesday for a decision in an on-going legal battle over trade secrets with Waymo, the self-driving car unit of Google's parent company Alphabet. Following the disclosure of an internal report that Uber was aware of potentially questionable decisions from former Waymo engineer Anthony Levandowski prior to purchasing his startup, a judge ruled that the trial would be delayed from its original start date of Oct. 10 to Dec. 4.
Though decision on the surface is a win for Waymo, which filed the motion for continuance in hopes of finding further evidence that Levandowski stole and Uber used trade secrets belonging to Google, Judge Alsup's warning to Waymo in court suggests things may be looking up for Uber in the case.
"It seems unlikely to me that you're going to find much of value in any of those materials, including the due diligence report," Alsup said. "I think if you had found a smoking gun after having 96 people, or however many you have working on this case, you would have brought it to me to say 'This shows how Uber is guilty'. You haven't found that yet."
Comments
comments