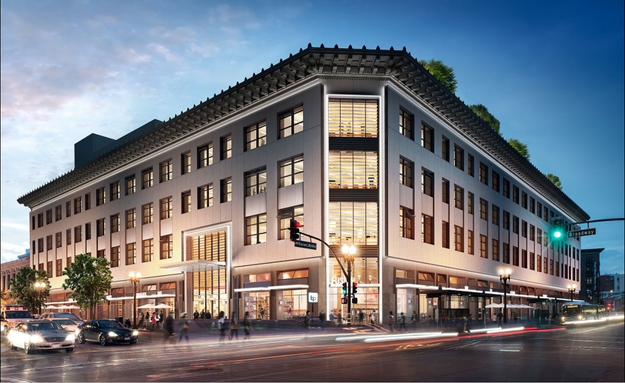 Gensler / Via gensler.com
Uber is looking to pull out of a historic Oakland building, where it landed with much fanfare in 2015.
The news broke late Thursday, first reported by the San Francisco Business Times, that the San Francisco–based ride-hail giant is looking to sell the 300,000-square-foot office building it purchased in downtown Oakland just two years ago.
"As we look to strengthen our financial position so we can better serve riders and drivers for the long term, we're exploring several options for Uptown Station, including a sale," says a company statement. "We remain committed to serving Oakland and our broader hometown Bay Area community."
The first hint that Uber might back out of its plan to open an office in Oakland came in March of this year, when the San Francisco Business Times first reported that the company planned to lease out most floors of the building, and reduce the number of employees working there from a few thousand to just a few hundred.
At the time, Oakland Mayor Libby Schaaf, who supported the initial deal, seemed convinced that Uber remained committed to relocating some employees to Oakland. Schaaf took heat from local community groups in Oakland who worried that Uber's decision to move into the building would result in skyrocketing real estate prices that would push some families and small businesses out of downtown Oakland.
Schaaf's office did not immediately respond to a request for comment from BuzzFeed News.
A lot has happened at Uber since the news that it would scale back its commitment to Oakland broke in March. Its CEO, Travis Kalanick, was forced to resign after viral allegations of sexual harassment and discrimination within the company led to two internal investigations into Uber's toxic workplace culture. Kalanick, who remains on Uber's board, is being personally sued by early Uber investor Benchmark Capital, which alleges fraud, breach of contract and breach of fiduciary duty, and aims to remove him. While Kalanick remains embroiled in that power struggle, the company itself is facing major challenges, in the form of a major trade secret lawsuit brought by Google's self-driving arm Waymo, privacy charges brought by the FTC, and a lawsuit brought by a passenger who says Uber improperly mishandled her medical records after she was raped by her driver.
A spokesperson for Uber said, given the company's renewed focus on workplace culture — in June, Uber's board presented the company with a suite of recommendations on how to improve life for employees — it makes more sense to house all employees in the same place. That place will be the San Francisco Mission Bay offices that Uber is currently constructing, in addition to some space in the buildings that are part of the Golden State Warriors project in which Uber bought a stake back in March.
Had Uber moved into the historic Sears building it purchased from Lane Partners in 2015, its presence would have transformed what is currently a stretch of largely vacant storefronts and minimal street traffic. The building itself is currently under renovation, and it's unclear as to whether Uber will continue to work on those improvements while it seeks a buyer.
Steve Snider, executive director of the Downtown Oakland Association, said he hopes the sale of the building goes through quickly, ideally to a buyer who's interested in introducing restaurants and other retail to the ground floor.
"Along the Broadway corridor, there's a lot of dead zones that don't really have active storefronts," he said. "Having something that's so centrally located and that's a half-block of downtown Oakland, to not have an active ground-floor presence sort of kills the overall vibrancy of the neighborhood."
Comments
comments