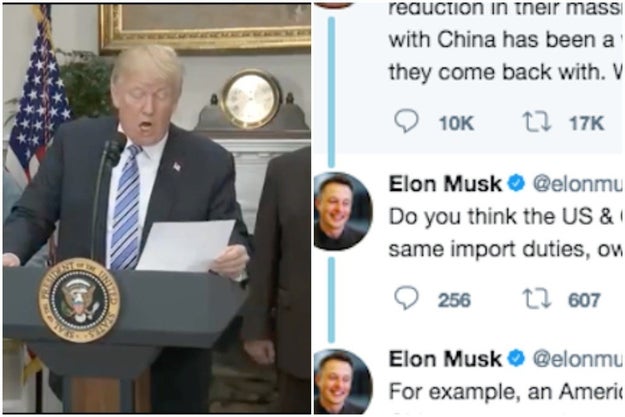 White House, Twitter
As President Trump's planned tariffs threaten to start a trade war, Elon Musk is asking the president to help him out on car trade rules with China — and Trump has made it clear he is listening.
At a press conference where the president signed new aluminum and steel tariffs on Thursday, he read aloud tweets sent by Tesla CEO Musk earlier in the day about unequal import duties on cars in China and the US.
"I saw a tweet just came in from Elon Musk, who's using our wonderful space facilities and did a great job three weeks ago," says the president, who then goes on to read Musk's tweets in full.
"We send our car over there, pay 25%. They send their car over here, 2.5%. That's from Elon, but everybody knows it," the president said, referring to the Tesla CEO's tweets.
Trump commented, "It's got to change. We're going to be doing a reciprocal tax program at some point, so that if China is going to charge us 25% or if India is gong to charge us 75%, and we charge them nothing, if they're at 50 or 75 or 25, we're going to be at those same numbers. It's reciprocal, called a mirror tax. … and we're going to be doing a lot of that."
"An American car going to China pays 25% import duty, but a Chinese car coming to the US only pays 2.5%, a tenfold difference," Musk tweeted. "Also, no US auto company is allowed to own even 50% of their own factory in China, but there are five 100% China-owned EV auto companies in the US."
He went on, "I am against import duties in general, but the current rules make things very difficult. It's like competing in an Olympic race wearing lead shoes."
A spokesperson for Tesla declined to comment on this story.
Trump is apparently a big fan of Musk's private space exploration company, SpaceX. "I don't know if you saw last with Elon with the rocket boosters where they're coming back down," Trump says in a video published by CNBC. "To me, that was more amazing than watching the rocket go up because I've never seen that before."
Musk previously served on Trump's Economic Advisory Council, but quit in June over the president's decision to withdraw from the Paris Accord.
It's unclear how much President Trump's planned steel and aluminum tariffs could impact Tesla's business. Tesla's Model S, Model X, and Model 3 are all made with aluminum and steel, but where Tesla sources these materials is unknown.
Comments
comments