Samsung's phablet is back, with a dual-lens camera and curved "Infinity" display.
Samsung's Note — yes, the Note that shipped with exploding batteries last year and was recalled twice before finally being discontinued — is back.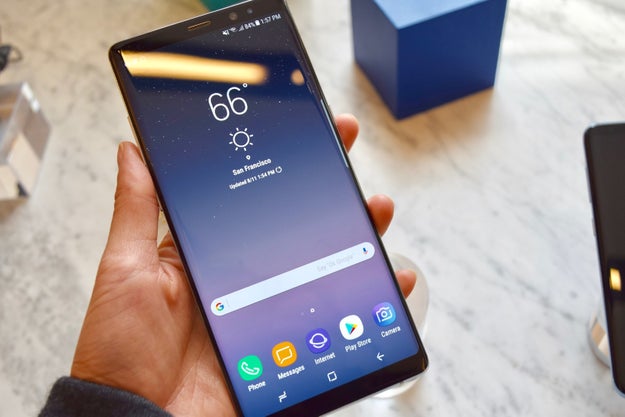 The Korean tech conglomerate debuted its newest device, the Note 8, a follow-up to last year's Note 7, on Wednesday.
In many ways, the Note 8 is the Note 7 that never was. The newer model has the same pressure-sensitive S-Pen, the same water-resistance rating, and a similarly curved-edge screen. Its two key changes are that its battery has slightly less capacity, which poses less of an explosion risk, and that it now has a dual-camera system that rivals that of the iPhone 7 Plus.
I got an early hands-on with the new Note 8 — and here's what you need to know.
Nicole Nguyen / BuzzFeed News
Samsung really needs to get it right this time around to regain customers' trust. While the company didn't directly address the past Note's battery problems, it says that it's "committed to quality" now more than ever, with an 8-point battery safety check that includes extreme testing and X-ray inspection, plus additional testing by a third-party company, Underwriters Laboratories.
The dual-lens rear camera includes a telephoto lens for close-ups and a "portrait mode" feature that lets you change the photo's depth of field.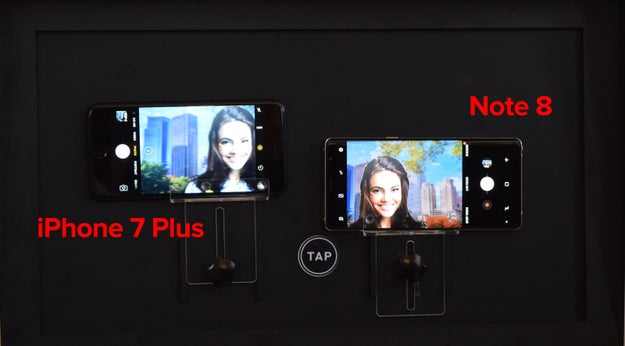 Last year, Apple introduced a dual-lens camera in the iPhone 7 Plus, which offered twice the optical zoom (instead of digital zoom, which lowers a photo's resolution) compared to iPhones without the second telephoto lens. For the Note 8, Samsung is introducing a similar concept: one 12MP wide-angle lens with f/1.7 aperture, and one 12MP telephoto lens with f/2.4 aperture.
The difference with the Note 8's camera is that both lenses have optical image stabilization, or OIS. Optical image stabilization makes photos taken with shaky hands look clear. That means even if you're zooming in at 2x with Note 8, your photos won't look blurry. Only the iPhone 7 Plus's wide-angle lens has OIS, and Samsung claims the Note 8 is the first smartphone to have OIS in both lenses.
Nicole Nguyen / BuzzFeed News
---
Comments
comments