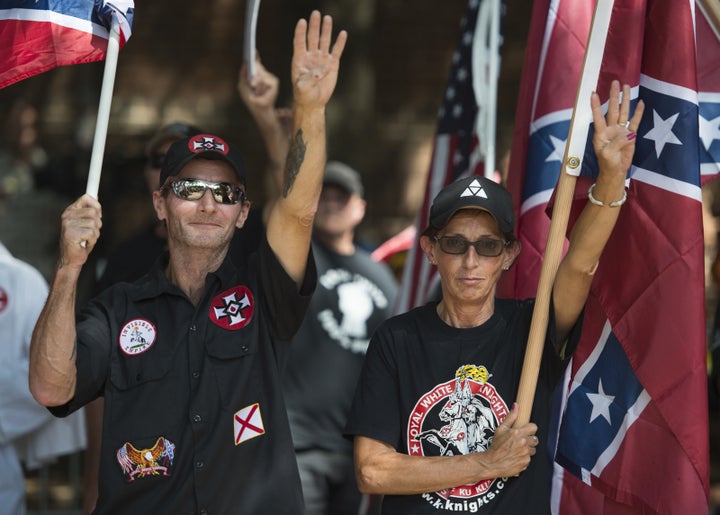 Members of the Ku Klux Klan gesture during a rally in Charlottesville, Virginia on July 8.
Andrew Caballero-reynolds / AFP / Getty Images
Shut down by US tech companies, the internet's biggest neo-Nazi website has been denied sanctuary by Russia, too.
Daily Stormer had on Wednesday attempted to rebrand itself as dailystormer.ru after several American web hosting services, including GoDaddy.com and CloudFlare, pulled their support. The site had acted as a hub for a white supremacists and neo-Nazis who rallied last weekend in Charlottesville, Virginia, where a driver killed anti-racist protester Heather Heyer. After her death, the Daily Stormer site began posting offensive content about Heyer, prompting widespread outrage.
But while individual American companies made the decision to refuse to host Daily Stormer, in Russia, where government censorship is far more restrictive, it was a legal matter. Russian law specifically prohibits, among other things, online content that glorifies Naziism.
Alexander Zharov, the head of Russia's Roskomnadzor, the country's federal communications regulator, wrote in a statement that it was within his agency's authority to instruct Russian domain registrars to refuse to host the site.
"The Daily Stormer website promotes neo-Nazi ideology, raises racial, national and other types of social discord," Zharov wrote. "Russian legislation has an extremely tough regime to counter any manifestations of extremism on the Internet."
It's not clear how quickly the Russian state made its decision, but the site was already inaccessible by early afternoon Wednesday, when attempts to reach it were met with a "DNS address not found."
@NatashaBertrand / Twitter / Via Twitter: @NatashaBertrand
It's unclear where the Daily Stormer will try to land next. The site is down, and its Twitter account, which normally would be used to point followers to its next iteration, has been suspended for violating Twitter's terms of service.
Comments
comments